High security keys provide added benefits to those who have them.
As locksmiths throughout Durham Region we get a lot of questions about whether or not to use high-security keys and locks.
Here is some information about security keys and answers to some of the common lock questions to make informed security decisions.
---
What are High Security Locks?
First, it is important to know what a security key or lock is. A high security lock is a type of lock that is designed to prevent keys from being duplicated without permission.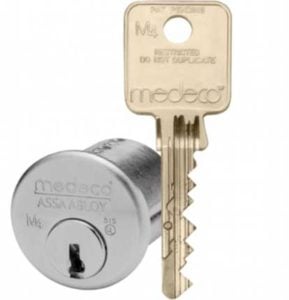 In order to make this happen, a lock uses a key that is controlled by one specific locksmith.
In addition, in order to copy the key, the individual has to be on the signature card with the locksmith if they would like a duplicate.
In this manner, these can only be copied by a licensed locksmith. Everyone who wants a copy of the key has to have the right identification and signature.
This also prevents companies from having to rekey their locks every time an employee leaves. Once an employee leaves and the key is returned, we will know that there aren't any copies of the key out there.
---
What Do High Security Keys Look Like?
High security keys can take different shapes and forms depending on the level of restriction. Many of these are only able to be copied by the lock manufacturer.
Security keys usually require some level of ID card identification in order to be copied. Keys that are purchased at this level usually have to be ordered in advance.
In addition, a key of this type can only be cut by a specific locksmith. In this manner, the locksmith has actually purchased the rights to that key. These keys are often protected by a license at either the local, state or national level.
---
What is a Restricted Key?
A Restricted Key is simply a different name for a high security key.
High security and restricted keys are been designed to be difficult to duplicate. These keys are notoriously hard for someone to copy without going to the original locksmith.
Where you need to duplicate a high-security key consider reaching out our locksmiths for advice. As long as the individual has the right permission, it shouldn't be a problem to duplicate a high-security key.