Lock Changes, Installations & Service
Lock changes, new locks installed and serviced, call 905-518-5168.
Changing Locks – Home Service
As Durham Region locksmiths we change and install locks for home or business security, including: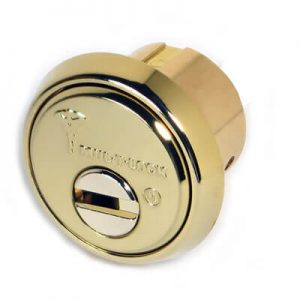 moving into a new home
changes to a single key system
keys that have been lost or stolen
replacing old or damaged locks
better locks for better security
Whether you need all your locks rekeyed or new locks installed, our mobile locksmiths provide complete on site service. Your home or business is only as secure as the locks.
Replacing or Rekeying Locks
Where you have a situation where you're considering installing new locks, you have 2 options:
Purchasing and installing new lock is an option, but many times existing locks can be rekeyed and have new keys made.  Where you have questions or concerns feel free to call our locksmith to discuss, at 905-718-5168.
Changing Locks with New Locks
Existing locks should be replaced where:
concerns about your security
unauthorized persons have keys to your locks
the lock is worn, loose or feels sloppy
Lock installations may require the use of a drill and chisel to be properly installed against the strike plate.
Where locks are professionally by a locksmith you'll save time, have peace of mind of security, with years of trouble free security. l
Lock Installations – Rekeying Locks
Rekeying locks is a very common way of changing the keys to your current locks.
Rekeying a lock involves opening the lock and replacing or moving the internal pins to re-align them. Then we are able to match the lock to a new key. Rekeying a lock may be more cost effective than buying and installing new locks.
Let us take a look at what you currently have and we can advise you on what's best. Rekeying may be the way to go, but we would need to see the locks and doors first to make that assessment.
Great service, I was given a quote upfront which was honest and reasonable. Gord was right on time and re keyed 3 doors in 30 minutes. Friendly, reliable, no upsell… the bill matched the quote… perfect. Gord runs the business with great customer service and I was delighted.  Lynn Hilborn, Whitby GoogleReviews
What Makes a Good Lock
A major part of your home security depends on your locks.
Locks are probably the only items in or on your home that are there solely for the purpose of providing a defense against unwanted intrusion. How well they do their job depends on a number of factors: their design, construction, installation, and proper application.
Door locks must withstand common burglary attacks. Otherwise you might as well not have them. Fortunately, the techniques used by the residential burglar are not very sophisticated, and if your locks are immune to them they will probably give up and go away.
Locks must be secure, installed properly with no gaps tight within the door and door frame.
Lock Installations – Key-in-Knob Lockset
The basic rule of the use of locks for home security is never rely on a key-in-knob lockset. Key-in-knob locksets do not protection against forced entry, and are not adequate under any condition.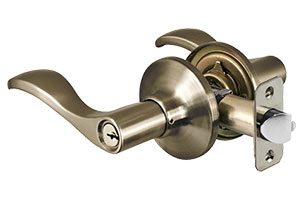 On most deadbolt locks the locking deadbolt is buried in the door, or mounted on the inside of the door — out of reach of the burglar.
Not so with a key-in-knob lockset.
The lock mechanism is inside the doorknob and once the burglar has knocked, wrenched, twisted, or pried off the knob, the mechanism is easily accessible.
Many key-in-knob locksets can be easily slipped and defeated.
KEY-IN-KNOB LOCK SETS are also known as cylindrical locksets or entrance sets. A key-in-knob lockset should be considered a privacy latch, where deadbolts should be on doors requiring security.
Had to replace an existing deadbolt lock on my front door. Gord took off the old one and installed the new in less than 15 minutes. He did a really professional job without compromising quality. Very impressive. Patrick Mills Pickering GoogleReviews
Lock Installations – Deadbolt Locks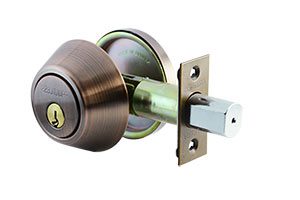 A deadbolt lock is any lock containing a deadbolt, a shaft of steel going from the lock body into the frame of the door.
The deadbolt requires a key and has a thumb turn on the inside for opening.
Horizontal deadbolts must have a throw of at least one inch to be considered adequate security.
Shorter throw deadbolts are too vulnerable to frame spreading, a common burglar attack.
Quotes for Lock Changes & Installations
Wonder what the cost is for changing your locks?
We're happy to give you a quote over the phone or send us an email.  Describe your issue to our experienced locksmiths and we'll give you a quote that we stand by.
No up-sells, come-ons, or add on fees.
As Durham Region locksmiths we'll give you a competitive price for rekeying locks or lock installations.  We stand by our service with a complete customer service guarantee.