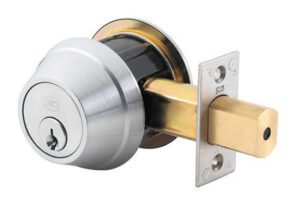 Deadbolt locks are part of a formidable security system, making doorways stronger while deterring unauthorized entry.
In a deadbolt system, a bolt goes from the lock body into the door frame, the lock is stronger and cannot be slipped.
At Al & Gord's Lock & Key we install and service deadbolt locks professionally and quickly, ensuring your security and peace of mind for years to come.
Call us at 905-718-5168 to install your deadbolt today.