Unlicensed locksmiths extort money from people who just want to unlock a door – and are not always in the best position to negotiate because they are in a hurry.
Here's how the scam works…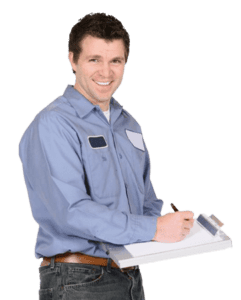 Unlicensed and disreputable locksmith companies create numerous websites promoting locksmithing.
These locksmith sites usually will have stock pictures of locksmiths or warehouses that don't exist, which the fraudsters submit to local listings on Google.
Once the listings are in the system, fraudsters will create of fake Google accounts to write reviews, claiming that the locksmith is doing a good job and is available.
When you, the unsuspecting customer, realize that you are locked out of your house or car and search Google for a locksmith, the results that appear on Google are those of the fake ones.
When you call the listed number, your call is forwarded to a call centre operated by a generator, maybe even outside the country. The person at the other end of the line will quote you a low price and then direct your request to a subcontractor in your area.
The person who arrives at your door will not be a real locksmith.
The first thing they'll say is they have to drill the lock, which will destroy the lock and make you pay a much higher amount quoted. The subcontractor may say that the work is more complicated than expected, often asking for three to 10 times more money than originally forecast, betting that most people will simply pay the bill.
Signs of Unlicensed Locksmiths
Here are some signs of fraud to keep in mind:
when you call, you will not talk to a locksmith,

you will receive a dispatcher who answers the phone with a common phrase such as "service" or "locksmith", but not the name of the company you called,
simply because calls to hundreds of fake companies can be routed to the same call centre.
When you are calling, ask which company to be sure.

fake or unlicensed locksmiths will promise a 15-minute response time,

but it takes 1 or 2 hours for the fake locksmith to arrive

because the fake locksmith isn't close as the Google listing suggests

unmarked service vehicles,

the vehicle used by the false locksmith does not have permanent markings on it
sometimes the car will have magnetic signs (which are easy to change)

appears locksmith is driving his own personal car

licensed locksmiths will drive a decaled company service vehicle

the fake locksmith will usually not wear a uniform,

because their not part of a company, but fraudsters

they may say that your locks are "commercial locks" or "high-quality locks",

claiming that they cannot repair them, so the lock must be drilled, which will destroy it

they will ask for a much larger amount than you specified

anyone can break a lock, but
skill is required as not to damage the lock,

something that true professionals can usually do

cash payments

fake locksmith may insist on paying in cash.
fraudsters want to avoid credit cards because they can be traced
Our professional locksmiths will give you a quote over the phone that we'll stand by.  We arrive at your location in a marked service vehicle, equipped with locksmithing tools and in uniform.
Licensed & Insured
The best way to avoid fraud is to find a real locksmith before you need one. Аsk your friends or neighbours for recommendations and look at Google Reviews.
Maybe consider adding the contact information to your phone in case you ever need this kind of service. If you pay attention, you can usually tell by talking on the phone who is a true professional and who is a fake.
To avoid the whole process and unpleasant moments losing time and money with fake locksmiths call Al & Gord's Lock & Key